This is who we are.
We stepped into the world of the "épagneul breton" in 1967, when we bought QUIM, our first brittany.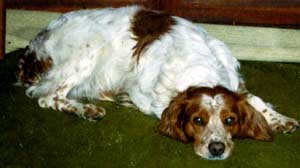 At that time I was not (yet) hunting, and it was only the companionship of the breed that pleased us, and also its sympathetic look, and its small size.
It was Quim's successor, NIXO DE SAINT TUGEN, a tricolour dog born in 1977 that introduced me to fields and marshes, gun in hand!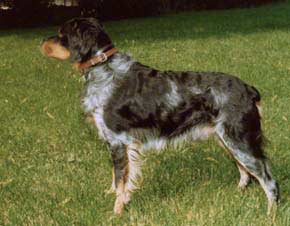 Luck had given us a dog that won very quickly and with great success in shows so that, to obtain a Show Champion title, I had to enter the world of field-trials, and so improving my basic knowledge of dog world.
Nixo was the first tricolour ever to become international show champion.
The time came when we wanted a second dog, so we returned to the same kennel and SKA DE SAINT TUGEN joined the home in 1981.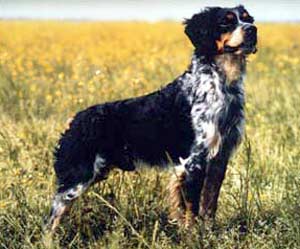 This very famous dog has been the one who made the tricolours popular, popularity that still goes on nowadays.
With six titles of champion, as well in the field as in the ring, he had 80 matings that produced 13 champions (9 show champions, 6 field-trial champions, plus 4 field-trial winners).
As we were getting close to the age of pension, we thought we could do some breeding based on our Saint Tugen champions. We then had our kennel name "du Hameau de Sorny" registered by the french kennel club (S.C.C.)
At that time, I was hunting with a friend who owned a bitch named SISSI, and I had had the opportunity to go shooting with her grandmother, her father, and her mother, all excellent and with very well balanced characters... My friend "Stef" loaned me Sissi, and on September 3rd ,1985 the first litter of HAMEAU DE SORNY was born!
It was a lucky mating, as this first litter gave the two champions "ALPHA" (Tr.CHCS.CHIB) and "ARIA" (Tr.CHIB), and a repeated mating in 1988 produced three new champions "DALLAS"(Tr.ChFTP.ChFTA.CHIB), "DUGEN"(Tr.CHCS), "DAHLIA" (Tr.ChT.ChFTA.CHCS.CHIB).
Those five dogs became also parents, grandparents or even grand-grand parents of many champions: Far du Hameau de Sorny, First du Hameau de Sorny, Guinness du Hameau de Sorny, Irma du Pont de Cauhet, Ilton'H du Fossé de la Tanière, Icare de l'Enclos du Château, Jiga de la Cité des Dianes, Jisquette de Saint Tugen, Like du Pont de Cauhet, Macha du Bois Courcol, Morgon du Pont de Cauhet, Oreste de l'Enclos du Chateau, Orace du Pont de Cauhet, Sarriette du Hameau de Sorny, Twist du Hameau de Sorny, Uzik du Hameau de Sorny, Vanille du Hameau de Sorny, Cannelle du Hameau de Sorny, etc...
Since then, we have regularly bred, and we celebrated the 30 years of the "Hameau de Sorny"on September 3rd 2015! In those thirty years , we have bred over 500 puppies!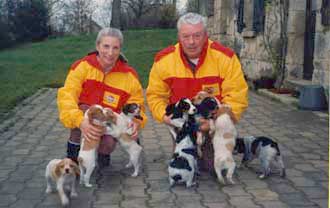 Since 1990, we are officially "selected by the french Kennel Club" as a breeder, which happens very rarely as since then only three breeders of Epagneuls Bretons have been added to the list, in 1996, 2006 and 2008. Our title has just been extended until 2010.
As breeding implies bitches, and as our dogs live with us, in the home, and we prefer a quiet life, even when some are in season, so we stopped keeping dogs after Dallas' death, in 2002, at the age of 14. Yet, we changed our minds when Carex came, in 2007. Not even aged of three, he became "Sujet Recommandé" by the C.E.B. and won the title of 2010 Automn Field-Trials Champion long before the season came to its end, and winning 14 awards which is a true exceptional performance ! Furthermore, Carex is also International Show Champion. We are also very proud to mention that CAREX just won the title of 2011 European A.I.C.E.B. (International Association of Epagneul Breton Clubs) Automn Field-trials Champion by team. We separated when his career in show or in trails came to its end.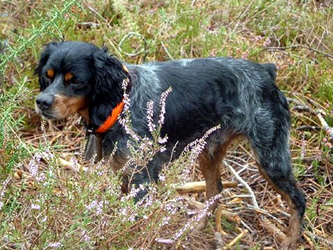 CAREX
At this moment, we are particularly proud of Guss du Hameau de Sorny, who became springtime FT champion in 2015, and automn FT champion + International FT champion in 2016.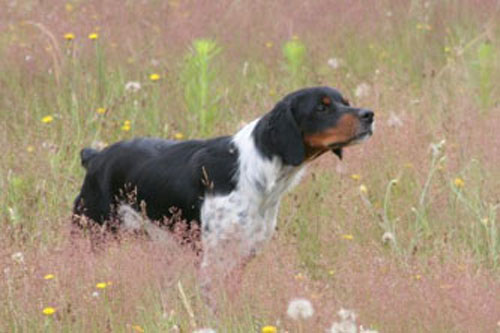 GUSS
When one seems ready to compete in field-trial, we give her a chance, but it is often not possible because of being in season, or motherhood! It is easier for shooting, as the number of the bitches always allows us to have some ready to go! Yet we were pleased to win, in 2007, the title of Automn Field Trial Champion for our bitch, Vanille du Hameau de Sorny.
And when we are lucky enough to have the owner of one of our dogs paying interest in field-trials, it is sometimes very rewarding, as it was with Dahlia du Hameau de Sorny (ChT ChA ChCS ChIB), First du Hameau de Sorny (ChP ChA ChCS ) or Twist du Hameau de Sorny (ChP ChA), and the same happened for Cannelle du Hameau de Sorny (ChA) .
Since then, thanks to Carex and Guss, we own over 30 titles of champion, all duly registered, the last ones thanks to Guss du Hameau de Sorny, who became ChP in 2015, and ChIT as well as ChA during the fall 2016. Guss is also the winner of the value scale 2016 of the Automn Field-trials solo.
Further, Cannelle du Hameau de Sorny, owned by Bruno Veron, has been homologated as "Elite B" dam by the CEB, and so becoming one of the very few females ( not much more than 10) to reach this qualification, since the the selection rating system of the CEB has been created, in 1992. Cannelle du Hameau de Sorny is the dam of Ioda des Marais du Piat, winner of the value scale 2016 of the Automn field-trials by braces, as well as the Field-trials on Natural Game (not released).
We bred our 500th puppy in a litter of seven, born February 23rd, 2014 out of GIROLLE by BOB DES LANDES DU PECH.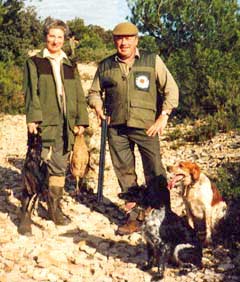 The only game I am really interested in is upland birds, that is woodcock, partridge, pheasant.
So, despite becoming 85 years of age this year, I will certainly have another shooting season the next automn, where all our dogs, go hunting at least for a few hours, once or twice each week, plus three full weeks of shooting "holidays" in the South West of the country, and then it is a wonderful time for the Epagneuls Bretons du Hameau de Sorny!
The

"Hameau de Sorny" team hunting in Quercy, in October 2017

(Eglantine, Mélisse, Mandarine)
At the yearly breedshow of 2015, I was very proud to receive the medal of honor of the Club de l'Epagneul Breton for the work accomplished in favor of the breed.
(Last updated: October 30th 2017)