How we think "breeding"
The "épagneul breton" is a hunting dog, so, this criteria is, an essential consideration.
For the shooter who gets a brittany for hunting purposes, though he might go shooting several days a week, this activity will not last more than about forty days a year.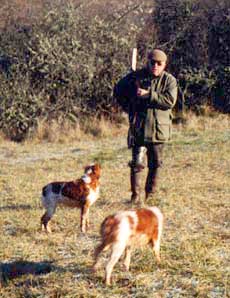 So there are still some 320 days where the behaviour of the dog in the home will be primarily for the pleasure of its owner.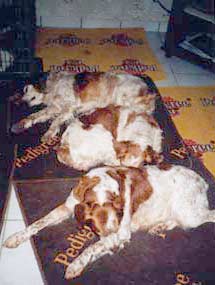 So, the second important requirement is that the dog is easy to live with, without any agression, neither excessively nervous, nor a non stop barker. That it is clean and is the companion of the mistress of the house in her kitchen and living room. That it is a playtime friend for the children and that it does not roam everywhere as soon as the gate is open.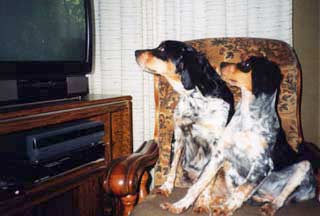 Nevertheless, although the épagneul breton is not an unhealthy breed, its health depends for a great deal on the care given to it in its first weeks of life. As always you should ensure that the breeders are reponsible and care well for their puppies and do not "puppy farm".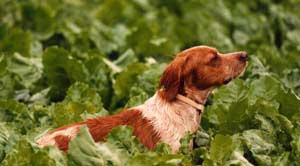 We have chosen not to focus on the production of champions, and, anyway, if a champion could be made on demand, the streets would be full of them!
In return, we believe that, if we produce with a great regularity dogs with good hunting qualities, and a correct constitution, there will automatically be some dogs above the usual average quality. If the owner's of these dogs wish to take their chance to try a field-trial or show career, these may join the champions already produced from our kennel. So was the case of Twist du Hameau de Sorny, owned by Jean-Louis Goasdoué, which became Springtime FT champion and Automn FT champion, winner of the value scale for solo automn trials 2006, second in braces in automn 2007, and also second in braces in springtime 2008!!! At the same top level, there is Guss du Hameau de Sorny, who is Springtime FT champion, Automn Shot Game FT champion, Intenational FT champion, and being classified as third at the springtime value scale 2015, and winner of the Automn value scale 2016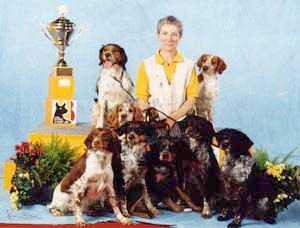 Generally, our opinion is that heredity affects more the morphology of the dogs than their character, and that the environment in which they grow may do more for a field-trial career than the genes inherited from its parents. As a confirmation of this assertion, we will only notice the small part of well known kennel names appearing in the "Value scales" published by the Club de l'Epagneul Breton: Among the 64 dogs mentioned in the Automn 2004 solo trials, there are 43 different kennels names noted! The sires figuring more than twice concern only 16 of these 64 dogs! For the 2004 solo Springtime season also, you coulkd also notice 52 affixes for 90 dogs, 60 of these being handled by professional trainers, where the environment is obviously ideal for a field-trial career!!!
We always select our breeding stock by considering the results of the five generations above them, and have for a goal some 50% trial champions, or trialers. Our dogs hips have been checked since 1977, long before anything official had been stated on the subject, and we take great care not to spoil what we have gained.
This also is one of the reasons why we are reluctant to use the stud dog which is the latest fashion, whose ancestors are not well known to us, especially when their pedigree indicates many various affixes, as we think that the continuity of the qualities may then not be assured. We prefer some consanguinity, on the best lines we produced, or with other kennels that used our stud dogs.
The careful selection of our stud dogs and brood bitches as well as the results obtained by their offspring allowed us to benefit from the very scarce title of BREEDER SELECTED BY THE SOCIETE CENTRALE CANINE (the french Kennel Club), since 1990.
Ranking of our kennel
Though we started breeding only in 1985, the classification published by the CLUB DE L'EPAGNEUL BRETON for the best breeders from 1947 to 2008 places us:
8

th for the total of French Show Champions (ChCS) ;

9

th for the total "All categories" Champions

, field-trial and/or show.

.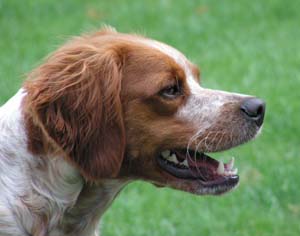 "Breeder party"
Since a long time we had no opportunity to enter a so called "breeder party" (3 to 5 dogs from the same kennel, judged on the homogeneity of the group), at the show in Origny Sainte- Benoîte, on 2017 August 20, we were very pleased to be awarded a second prize, versus ten other breed parties of various breeds, thanks to Girolle, Jessie, Joyce, Maya et Mandarine "du Hameau de Sorny".
Prolificity of our dams:
During 31 years we have bred 90 litters of Epagneuls Bretons for a total of 547 puppies, which means an average of 6,1 puppies by litter, wherefrom 40 litters of 10 puppies.
(Last updated: August 28th, 2017)