Welcome | The breed | Who we are | Where? | Our dogs | How we think "breeding"

The litters we forecast | Available Puppies | Gallery | Smile! | Links
Introduction to the "épagneul breton" (brittany)
The "épagneul breton", also known as the brittany, or the brittany spaniel, is a french pointing dog. It is classified in the 7th group by the F.C.I. (International Cynologic Federation).
As its name in french indicates, it belongs to the spaniel type (as the english setter or the Cavalier do), so it shows a wavy hair of medium length.
Pointing breed, it has been created during the XIXth century, from a "country spaniel" with the help of some infusion of english blood, to improve the scenting ability and the instinct of pointing. Its favorite game is "feather", that is: quail, partridge, pheasant, woodcock, but also snipe, grouse, and so on...
Of medium size, it measures some 50cms (19 to 20") at the withers, so it reaches the knee of an adult human, and it is the smallest of the pointing dogs.
Intended and bred for hunting, what implies severe selection of the balance of character, the "épagneul breton" also shows qualities that make it a very pleasant home dog. If it is very active on the field, it is generally calm and clean in the house.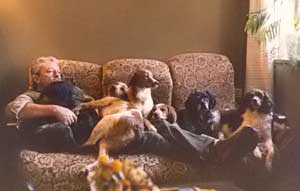 Very indulgent to children, as well as to other dogs, it is also an ideal partner to the shooter -especially the urban one thanks to its small size-, the companion to the lady of the house, and the playfellow of the children.
Its maintenance is easy as it requires almost no grooming, it does not smell doggy, and cleans itself after being covered with mud of the marshes or fields.
It is a very healthy dog, of strong constitution, tolerant to extreme weather conditions without harm, which is not a reason to leave it in a kennel all day long. Indeed it develops its intelligence and complicity by the contact with humanbeings.
By no way is the "épagneul breton" a guardian, except with its accute hearing it will warn you when a stranger approaches your home, and that it will show its natural frienship only after a cautious exam of the newcomer.
The males offer the same sweet and loving character as the females, which is not the case in every breed.
Officially recognized with a first standard at the very beginning of the XXth century, the "épagneul breton" exists under five different coat colors: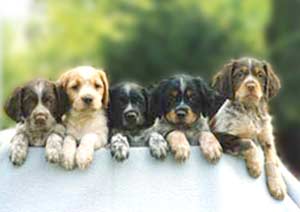 - Orange and white, the most often seen, and whom many people believe to be the only true color of the breed, though it appeared only in the 30's.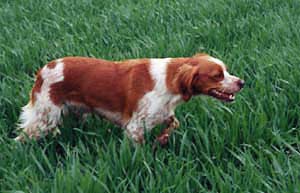 - Black and white, existing since the origin, and very elegant,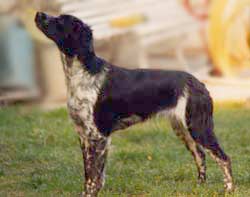 - Tricolor black, orange and white, very appealing, and in fashion since some fifteen years,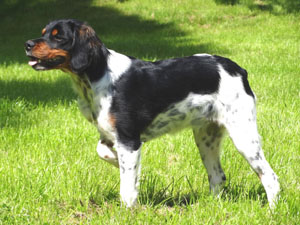 - Liver and white , the most frequent color at the origin of the breed, nowadays somewhat rare,

- Tricolor liver, orange and white, by far the most rare colour.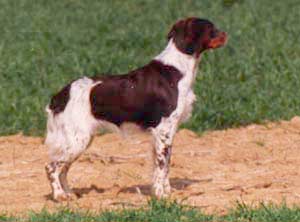 All these coats can be found in clear markings, but more often they are roan (i.e. flecked).
Major qualities: Cleverness and kindness.
Major defect: Gluttony, that can lead to obesity.
Welcome | The breed | Who we are | Where? | Our dogs | How we think "breeding"

The litters we forecast | Available Puppies | Gallery | Smile! | Links