Where?
G.P.S.: Enter SORNY rather than Terny-Sorny
We live in a little village of Hauts-de-France, the former Picardy country, in the department Aisne (code n°= 02): TERNY-SORNY, and our home is precisely in the little hamlet of Sorny, at 49°26'55.43"North by 3°22'46.66"East.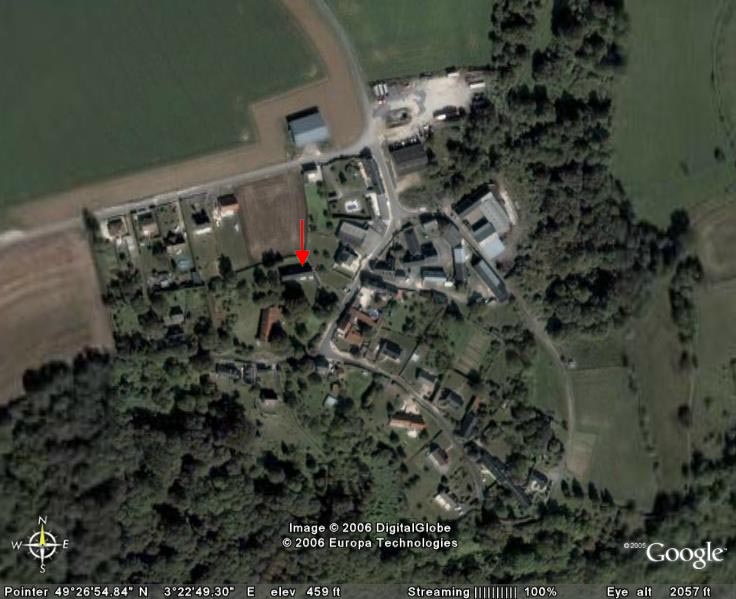 Terny-Sorny is 9 kilomètres away from Soissons, on the D1 road to Saint Quentin.
Zoom...
We are 45 minutes away from the Paris "Charles-de-Gaulle" airport, at 2hours from Calais, its ferries and Eurotunnel.
We are only about 50 kms away from the cities of Reims (A4 and A26) and Saint Quentin (A26 and A29)
We are at 1 hour from the belgian border, at some 150 minutes from the german one and Netherlands is also 150 minutes away.
...And, from Paris, we are at some 100 kilometers to the North-East, A1 + A104 motorways, and the N2 road which is an express way except for 30 kilometers.
G.P.S.: Enter SORNY rather than Terny-Sorny
-0-0-0-0-0-
LODGING:
-Traditional, at Soissons, at 10 kms: Hôtel Ibis, Hôtel Campanile, Hôtel Best Western.
-Bed and breakfeast, at Vauxaillon, at less than 5 kms: "AU JARDIN FLEURI" - Tél: 03.23.80.42.98 -Mail: celineamas@orange.fr - Website: https://www.chambres-a-la-ferme.com/
(Dernière mise à jour: 29 Octobre 2017)
(